San Francisco Combo Muir Woods & Alcatraz Tour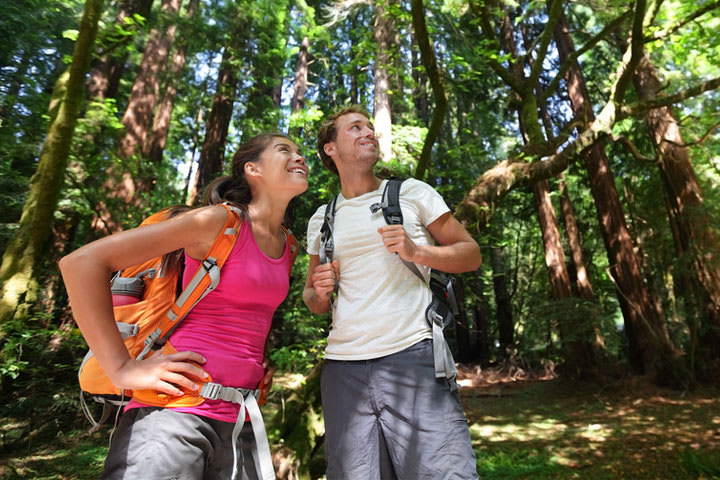 Important Information
Muir Woods Need-to-Know
Important information about our tour.
The Muir Woods Tour departs from the Big Bus Tours Visitor Center at 99 Jefferson Street in Fisherman's Wharf at 9:00am and/or 2:00pm (depending on the time of the year) and takes about 3.5 hours. PLEASE NOTE: Reservations are required. Please confirm your preferred tour date and time by contacting MuirWoods@BigBusTours.com after purchase. The 45-minute journey to Muir Woods takes you across the Golden Gate Bridge, and up into the Marin County headlands. On arrival at Muir Woods, you'll be given your admission ticket and free range to explore the gentle walking trails for 1.5 hours. The return journey includes a drive through the seaside town of Sausalito.
Alcatraz Need-to-Know
Important information about visiting Alcatraz.
This ticket includes admission to Alcatraz and return ferry transfers from Pier 33. After booking, please email Alcatraz@bigbustours.com to confirm your preferred tour date. This must be confirmed at least 5 days in advance of your visit. Same-day bookings are not available. Please redeem your e-tickets at our Visitors' Center at 99 Jefferson Street, San Francisco, CA 94133. Cancellations or changes must be requested at least 6 days prior to your confirmed visit date.
What is the child ticketing policy?
A child ticket is required for children aged between 5 and 11 years in order to visit Alcatraz. All children must be accompanied by an adult. Children aged 4 years and under may travel free of charge. Children aged 15 years and under must be accompanied by an adult. Strollers and pushchairs must be folded and stowed on the lower deck.
What is the food and drink policy?
No food or alcohol is permitted on board the bus. Non-alcoholic drinks in screw-top bottles are permitted.
Accessibility
Big Bus operates wheelchair accessible vehicles that can accommodate a weight up to 650 pounds. Please be advised that the upper deck on our entire fleet in San Francisco is not wheelchair accessible. Passengers with mobility requirements may not be able to access the upper deck of our buses. Big Bus cannot guarantee the accessibility of the various attractions along the tour.
Refund
To request a refund please follow the below instructions:
Please email your request to: refundsusa@bigbustours.com 
Please include the following details: 
Customer name 
Customer email address 
Date of sale 
Order reference number 
The reason for requesting refund - please provide as much information as possible
How do I redeem my ticket?
Please redeem at Big Bus Visitor Center Stop #1 located at 99 Jefferson Street, SF CA 94133. Arrive between 8am to 9am to collect your Alcatraz Tour time and tickets and your Muir Woods Tickets. NO CANCELLATIONS ALLOWED.
MORE INFORMATION
Experience two of San Francisco's best landmarks with our new Muir Woods & Alcatraz package. This includes a private bus tour to Muir Woods and a ticket for Alcatraz admission. After purchase please email Alcatraz@BigBusTours.com to confirm your preferred Muir Woods Tour date and time, and your preferred Alcatraz visit date.
Important: You MUST call Big Bus to check availability before making a booking. CALL 415-433-1657 / 855-854-8687 for availability.