SELECT DEPARTURES BETWEEN 2 - 30 DECEMBER
London Christmas Lights Night Tour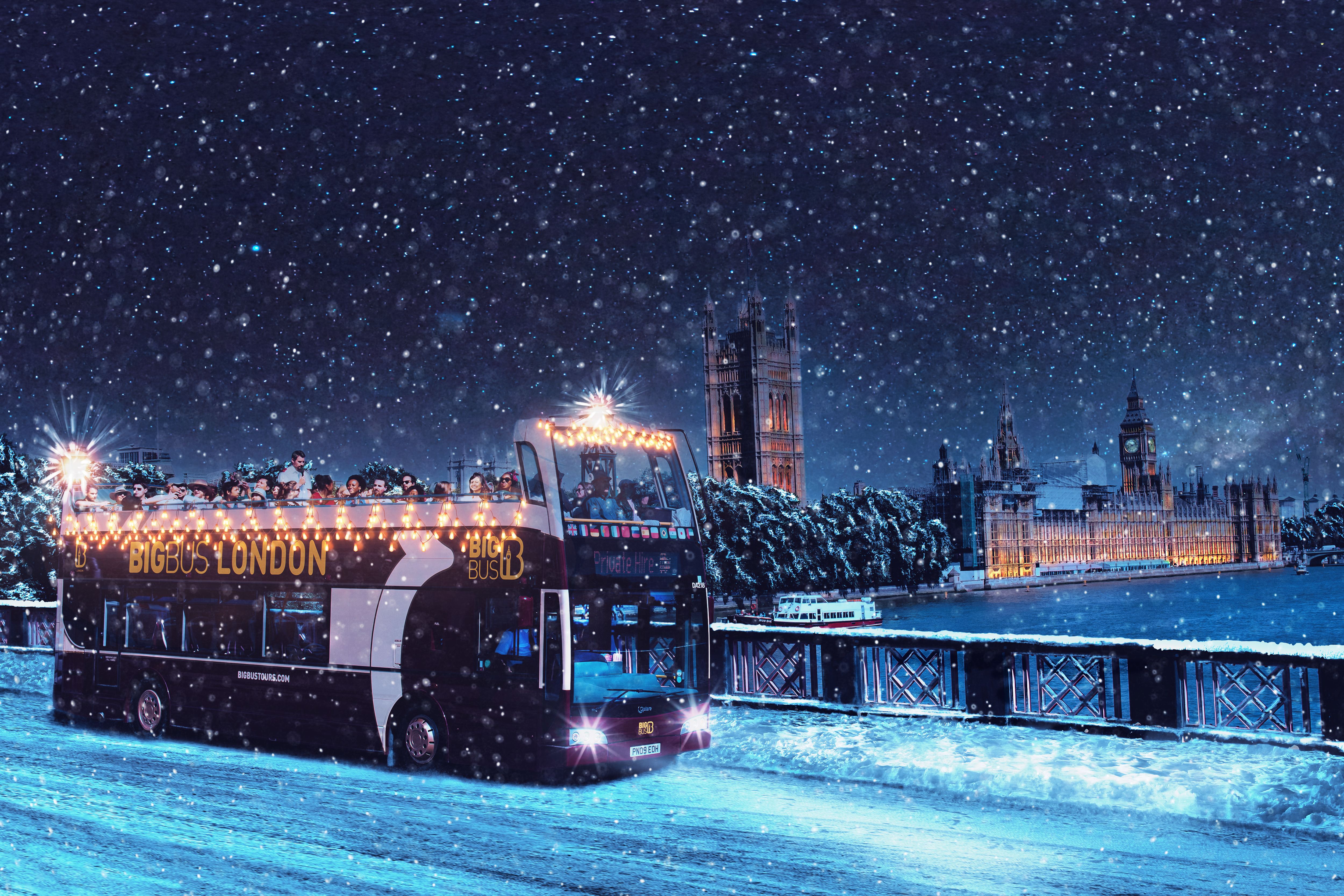 Important Information
What is the child ticketing policy?
A child ticket is available for children aged between 5 and 15 years. All children must be accompanied by an adult. Children aged 4 years and under may travel free of charge. Children aged 15 years and under must be accompanied by an adult. Strollers and pushchairs must be folded and stowed on the lower deck.
On which days does the tour operate?
Our London Christmas Lights Tour operates on specific dates between 2 - 30 December, excluding the 24th, 25th and 26th.
Tour Times & Duration
4.00pm, 6.00pm & 8.00pm - 1 hour 15 Minutes (non-stop)
Start/End Location
Stop #24 (Victoria, Nova Complex - corner Buckingham Palace Road & Bressenden Place, outside Vagabond restaurant)
Is there a commentary available in my language?
Our Christmas Lights tours feature live English speaking guides on all departures
Accessibility
Our buses are wheelchair accessible, with ramps enabling access to all vehicles within the fleet. There is space for one wheelchair per bus (unless the second customer is able to transfer to a fixed seat, in which case a second wheelchair can be accommodated in a fixed position).
We do have some restrictions in place due to weight and stability, and advise that we do not carry mobility scooters. We also may not be able to accommodate larger wheelchairs for the same reason. The maximum weight allowed on the ramp is 300kg, which is the weight of the wheelchair when occupied. The wheelchair also cannot exceed the width of the designated wheelchair seating area.
To avoid any disappointment on your day of travel, we would be happy to confirm in advance whether your wheelchair can be accommodated on board, and would ask you to send an email to info@bigbustours.com including a photograph of your wheelchair, as well as an indication of the width and weight of the chair.
Refunds
To request a refund please follow the below instructions:
Please email your request to: refundslondon@bigbustours.com
Please include the following details:
Customer name
Customer email address
Date of sale
Order reference number
The reason for requesting refund - please provide as much information as possible.
MORE INFORMATION
Experience London like no other on our London Christmas Lights Night Tour. Hop on our Panoramic tour to discover the sparkling lights of Regent Street, the extravagant window displays of Harrods, and the towering Christmas tree in Trafalgar Square. Take advantage of the magic of London and see all the sights with Big Bus Tours.
This tour does not operate on 24-26 December