Berlin Guided Walking Tour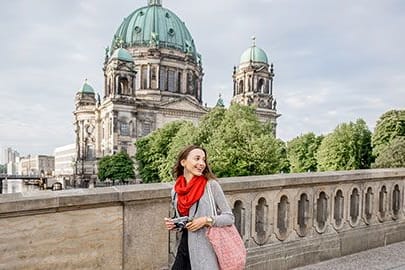 TOUR DESCRIPTION
Departure Time and Day: 11:00am Daily in English and 03.00pm in German
Tour begins at: Stop #13 – Brandenburg Gate
Tour terminates at: Stop #6 – Checkpoint Charlie
Duration: 1 hour 30 minutes (approx.)
Important Information
Walking Tour
Delve into the city's fascinating past from the Third Reich and Second World War to the Cold War and the Fall of the Berlin Wall.
Our guides will take you a 90-minute walking tour from the Brandenburg Gate to Checkpoint Charlie with highlights including the Holocaust Memorial, Hitler's Bunker and captivating stories of the divided Berlin.
Tour begins at: Stop #13 – Brandenburg Gate Tour terminates at: Stop #6 – Checkpoint Charlie
Operates:
April to October: Daily at 11:00am und 3:00pm in English Daily at 1:00pm in German
November to March: Daily at 11:00am in English Every Friday, Saturday and Sunday at 1:00pm in German
Duration: approx. 90 minutes
Refund Policy
To request a refund please follow the below instructions: Please email your request to: [email protected] Please include the following details: Customer name Customer email address Date of sale Order reference number The reason for requesting refund - please provide as much information as possible.
MORE INFORMATION
The City Walk introduces you to the lives of the Habsburgs and touches on some of the city's famous composers. The City Walk is led by an entertaining and informative guide, providing insight into the area's history and culture. Please check our Walking Tours page for up-to-date departure times.