PANORAMIC CITY TOUR
Abu Dhabi Classic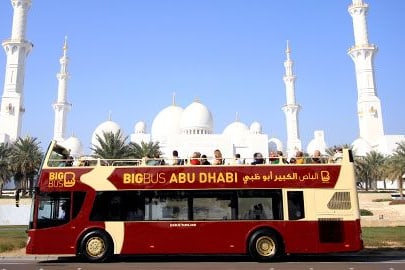 Important Information
What is the child policy?
A child ticket is available for children between the ages of 5-15. Children under 5 may travel free of charge. All children must be accompanied by an adult.
Which days do the tours operate?
The Big Bus Tour runs every day of the year runs every day of the year, even throughout the summer - all of our buses have custom-designed air-conditioning systems to keep you cool even in the heat of the midday sun.
Do I need to specify a date of travel?
All the tour tickets we sell on our website are open dated, meaning you can travel on any day within 6 months of purchase.
If you purchase a ticket that offers validity for more than 24 hours, you must travel on consecutive days.
How do I redeem my ticket?
Show your printed ticket to a member of staff at one of our stops or aboard the bus. They'll issue you a receipt that you'll be able to use to hop on the bus throughout the validity of your ticket.
If you requested to have your tickets sent via SMS, remember that there is no need to print your tickets. Just bring your phone with you with the ticket page open to show it to one of our on street staff who will issue you your ticket.
Accessibility
Most of our buses are wheelchair accessible. Please contact us for further information.
Refunds
To request a refund please follow the below instructions:
Please email your request to: farhaazj@bigbustours.com
Please include the following details:
Customer name
Customer email address
Date of sale
Order reference number
The reason for requesting refund - please provide as much information as possible.
MORE INFORMATION
Discover Abu Dhabi with our great value 1-day Classic Ticket. Explore the sights across our Panoramic route.
RELATED PRODUCTS
2 Day Hop-on, Hop-off
2 Different Routes
Sheikh Zayed Mosque Tour
Presidential Palace
Wahat Al Karama Walking Tour
Adult
US$89.00
US$66.40
Child
US$60.00
US$53.70
5 Day Hop-on, Hop-off
2 Different Routes
Sheikh Zayed Mosque Tour
Presidential Palace
Wahat Al Karama Walking Tour
Adult
US$107.00
US$95.60
Child
US$69.00
US$51.10